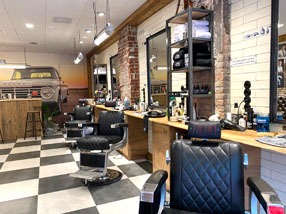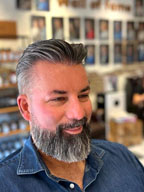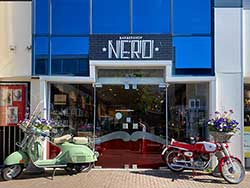 ABOUT NERO
At Nero Barbershop you are 'amongst friends', an accessible and casual atmosphere that we like to combine with our profession. Barbering was already highly regarded by the ancient Egyptians and today it is almost impossible to imagine a city without a barbershop.
Our shop is our workshop, mancave and society. A place where craftsmanship and conviviality come together, a place where men can be boys and boys become men.
It is the place we started in 2013 and we are proud to be able to implement our artisanal and socially involved concept in several locations now many years later. In recent years we as a shop have won several prestigious awards from 'best entrepreneur' to 'best barbershop' and various nominations for, among others, the ANKO awards.These awards and nominations are not our goal but we like to see them as recognition of our commitment which we're thankful of.

Our goal is to put you as a customer first; a good conversation or a light-hearted get-together. We don't just cut a stylish haircut, you can count on sound advice based on your skin type, face shape and hair type.
At Nero Barbershop professionals work with a special passion for the craft and always have a listening ear.

We look forward to welcoming you in our shop at Stationslaan 82c, Ermelo. We recommend that you make an appointment to be sure of a spot. You can make your appointment via our website or via our app which you can find in Google Playstore and Appstore
We would like to invite you to our comfortable chair and we will embark on a stylish adventure with you while enjoying a good cup of coffee!
Character
We are headstrong, caring, patient and at times a touch rebellious.
OUR SERVICES
Everybody loves a sharp cut man.

Clipper
All in 1 length
Cut
We give you a cool or decent haircut. A 'sharp cut', as the English say (the Americans too by the way)

Beard
Beard trimming inc shaving contours and neck

Shaving
Sit down for an old-fashioned good shave
Home
Take a seat in our comfortable our chair and enter that pleasant state of being. You will automatically feel at home.
VISITING HOURS
View our opening hours here.
Bold
It takes great courage to cut something off, from the barber but also requires it from you as a customer.
PRICE LIST
Every man is welcome at Nero Barbershop. We give you a cool or neat haircut. A 'sharp cut', as the English say (so do the Americans, by the way). Or take a seat for an old-fashioned good shave. A fresh shave like in an old Hollywood movie, but for real.
Well, our prices: